in which our plucky heroine thinks small...
because thinking large feels so very hopeless. I am appalled at the hatred and violence that is erupting all around the country I live in. I message my elected officials to add my own small voice towards the direction of sanity and kindness, but mostly just feel helpless and terrified. Sewing, or crafts, or the creation of beauty feel in some ways ridiculously privileged, but also are my only candle to light against all that assails our common humanity.
※※※
In less than a week, a major total eclipse of the sun will transect the USA, and actually come quite close to my own city cottage. There are people coming from far up and down the coast to central Oregon, and even my own nephew is traveling north from Los Angeles for the celestial show... I have never seen totality before, and this is probably the only chance in my lifetime to have this experience.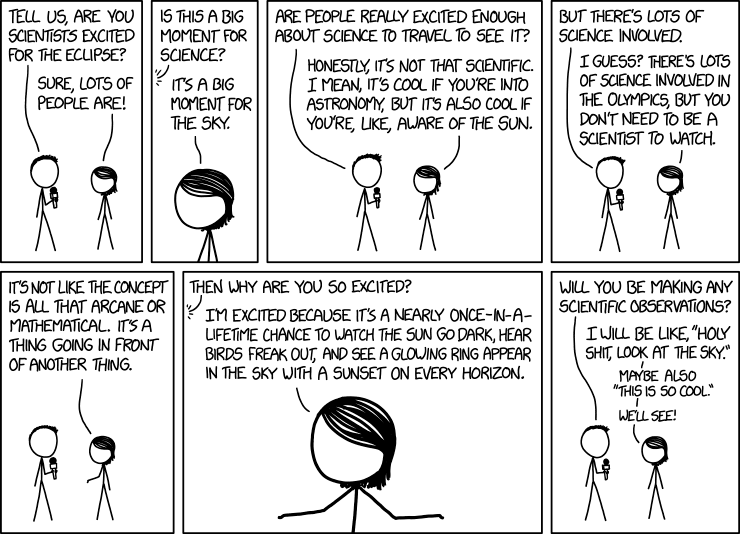 ※※※
I am really looking forward to actually sewing some clothing for me this quarter. I've been looking through my wardrobe and trying to figure out what I need...
Following the
Useful Guidelines
suggested by our intrepid inspiration Elizabeth, my first garment will be
a knitted "mini poncho"
, that will cover my neck and shoulders but leave my arms free of constraint. I bought wool in three subtle heathered colors, to knit together in an approximation of extra-bulky yarn (the pattern offers this as an option). The
grey heather
, the
brown heather
, and the
aqua heather
combined knit up in a sort of warm blue/grey tweed, and on size 11 (8mm) needles, will be a quick enough knit to actually get finished by the end of October!
The second, which will fill a definite gap in my wardrobe, will be the
Alabama Chanin/Gudrun Sjoden inspired cardigan jacket
I keep hoping to make... this time it will be one of the first two pieces, since it will coordinate with everything in my closet. (navy top layer, brown under layer, black stenciling, grey stitching) And I know that in a month or two some light warmth will be welcome, even if now the idea of layers makes me want to reach for some ice water...
I am not certain yet what else to add in to my 6PAC. It is still really the heat of summertime here, which tempts me to make another popover dress, since that is the part of my wardrobe that is still very scant. I think I have one partially cut out in some dark indigo rayon, which would be wearable now, and wearable later underneath a pinafore...
One more pinafore, the already cut out jacquard denim that didn't make it into SWAP, would be useful this autumn. There are a number of blouse lengths in my stash of woven cotton that could coordinate well with my pinafores, an indigo midcentury floral, and a cream/brown mushroom in particular, but I would need to buckle down and work out a good TNT pattern for a woven top/blouse. Hoping to find the mojo to actually muslin the Fit For Art Tabula Rasa jacket, which has proven so successful for other folks as a woven top and/or jacket pattern.
※※※