in which our plucky heroine thinks about riding her bicycle...
Actually I have two bicycles, one that I ride all the time, and one that I hope to ride more often. My everyday bike is a light blue multi-speed bike, and the other bike is a white comfort bike with a fancy paint job and a three speed coaster brake hub. I've been collecting modest list of wishes that will make this transportation option work a bit better for me:
This is the most important one! I just noticed in the last week that my aged bike helmet has started coming apart, the attachment point between the helmet and the chin strap is no longer attached. I think this means that I need to get a new helmet. I rather like the retro style of
these
, if I can find a place that sells this type locally... in addition, one of the two brake cables on the blue bike needs replaced, which is scheduled to happen this weekend when Blue Cedar House descends en masse for a few days of work party exchange. I look forward to learning a bit about how to better take care of my equipment, since I know NOTHING at all about bike maintenance. Adding a kickstand would be a great help as well.
The white bike languished for years in my shed, in need of some mechanical love that I have no experience to provide; I swapped a pendant for the bike, in the hope that it would be a better ergonomic fit for me, which turned out to be only partially true; however, it is fun to ride, now that Mr Blue Cedar House gave it some attention. While it does have a kickstand, what it lacks is any way to usefully carry along any gear or groceries - adding some
Wald folding baskets
like the other bike has would be a good thing, which would also mean adding a rear rack so there is something to attach said baskets to!
As far as my overall riding experience, the other things that would be an improvement would be better lighting, finding the missing red blinky LED light, and possibly some additional reflective gear. I have some very specific ideas about what I want, and am considering adapting the idea of
this reflective vest
to fit my size and shape. The concept of a knotted mesh of reflective tape, that would fit neatly in a small carry pouch, seems very clever. I know that Rose City Textiles has various sorts of reflective materials, I used some when I was making safety vests for G and his pals;
this reflective tape
may be just the thing, a future field trip will allow for some research...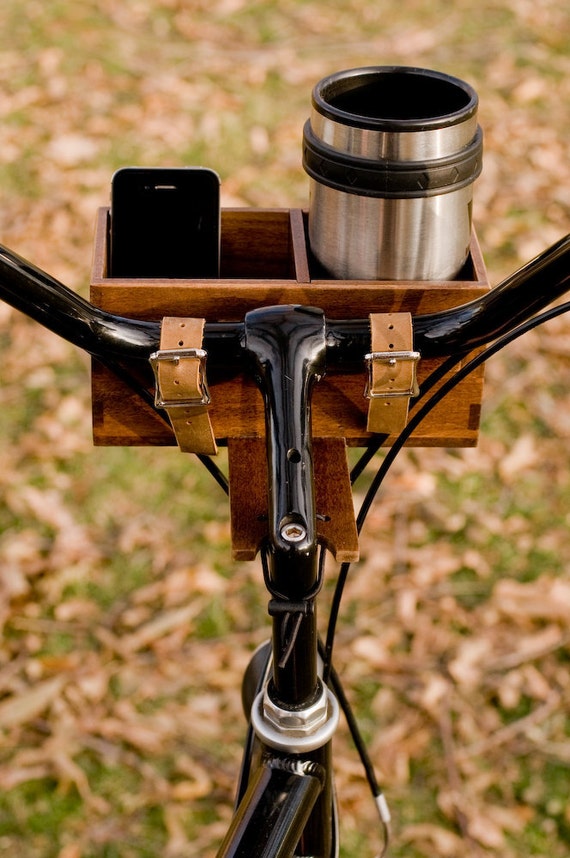 Another optional accessory would be some sort of front basket or carry box that would attach to the handlebars; both bikes could use such a gizmo, as a place to stash my pocket EDC while riding, as otherwise it bangs most annoyingly into my legs.
This spiffy box
from a former Etsy artisan is quite inspiring (while I have neither smartphone or coffee transporter), but I'd fear it would soon be stolen - the concept though, lends itself to a DIY effort using salvaged materials.
I forsee a number of experimental efforts this winter...