This past weekend, despite the lovely soft spring sunshine, our plucky heroine spent mostly indoors teaching a second Introduction to Cloisonné workshop. My old friend Zenobia turned out to be the singular student, so it was more of a private lesson, but that allowed her to complete two small pieces over the course of the weekend.
Saturday morning she showed up with tasty pastry treats... mmm brioche stuffed with goat cheese and roasted winter squash for lunch, and we decided to go out to dinner at a new-to-me restaurant,
The Fishwife
, on Lombard between here and St Johns. What a treat! I have to call it a local gem... the food was much better than I expected from the exterior and "1950s beach café" decor. I had fried calamari, and they were crisp, hot and completely not greasy at all! Z had the osso buco with polenta and rapini, and while she almost regretted not choosing seafood, it was well worth the exception. This restaurant goes on my short list.
I always love to see the design choices my students make, and do my best to help them be successful. Zenobia's second design was inspired by our local Steller's Jay.. showing the progression from initial sketch, color choices and finished enamel, as well as some thought about how best to bend the wires to get the desired linear shapes. Her choice of adding just two curved wires to the background was a great way to add a lively dynamic to the image in a way that suits the size of the piece. Yet again proving that I learn something new from each person that attends one of my classes!
...and here is a closer look at her two finished enamel pieces (each the size of a nickel) I love the way that Zenobia's love of color is expressed in her enameling...
Someone asked on FB whether enamels of this size could be set as earrings. My reply was that while enamels of this size *could* be set as earrings, in several different ways, they would be what I consider to be quite heavy (I only wear lightweight earrings, and were I to make enamel earrings I would use a base that was probably a fourth the size of these...
which would need a simpler design, like the ones I made a number of years ago, which are about 1cm across their widest dimension: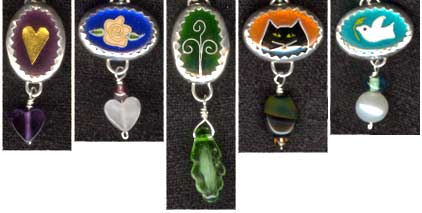 :::
and because no springtime is complete without a little tongue in cheek...