...in which our plucky heroine, in the interest of remembering to stop looking at the closed door and focus on the now, turns her winter woolies to turn her luck, or at least her attitude...
because honestly, some days lately have been like this: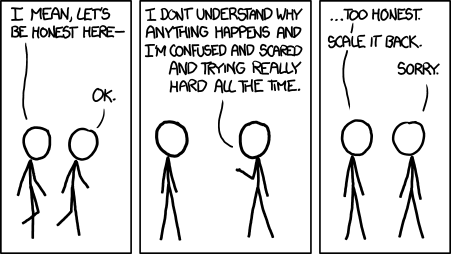 (from xkcd)
Started out yesterday by gathering up all the yarn hats that I so busily knit back when knitting (with some of
the donated yarn
) was all that I could cope with doing, and took them over to the Hawthorne New Seasons, where there was a drop box from
this group
, which is coordinating getting new handmade warm winter woolies to homeless folks and others who need them...
:::
I decided that part of self-cheering-up might be to make something totally frivolous... black
linen
! gauze + big grey pom pom trim = a pom pom cowl scarf! (if you want to make one of your own, the directions that inspired me are
here
) It can be worn long, like a regular scarf, or doubled and short like a cowl. It is surprisingly warm, almost as warm as a wooly neckscarf, and the pom poms are just goofy enough to make me smile...
:::
Yesterday was definitely a counterbalance to the previous whingified days... in the afternoon, the faint bubbles of new ideas surfaced with this idea for a sewing theme pendant, all set about with charms... salvaged and scavenged and fabricated in-studio... there will be tiny little painted enamels and layered metal bas-relief, and needlefelted whimseys. I anticipate trying some new technical experiments in 3-D micro enamel. Whee!
And later that evening, after a work meeting, my friend D came by with a dear little container of holiday cookies and fudge, and a holiday card that when I opened it, required a
Great Big Squee
! (guess who is going to see
Great Big Sea
?)
:::