I'm planning on two enameling workshops this season - one next weekend, March 12 - 14, and one the weekend of April 9 - 11. I'll be covering both cloisonne and painted enamel detailing, $200 for either workshop, all supplies included, bring your imagination and ideas. I'm also starting up Open Studio evenings on Tuesday evenings. $40 for 3+ hrs of access to the enameling kiln as well as encouragement and information (Open Studio is for those who have some enameling experience, such as already taken one of my workshops or Ithra classes)

~ : ♥ : ~

The new Kenton library is opening next week. I'm so excited to have a branch library about a mile from Acorn Cottage, and it can only add to the revitalisation of that end of Denver Ave.

~ : ♥ : ~

In addition to re-working my sewing business card, I decided to cut printing blocks to be used for month-calendar planner pages. It is always difficult for me to find planner inserts; I have an uncommon size of small notebook. I really enjoy the simple process and slow-crafted look of this kind of handprinting. (Anyone interested in a short workshop - this can be used for printing on paper or fabric)




~ : ♥ : ~

While sorting through my closet, I found a shirt/jacket/overblouse that I'd made a few years ago, that I will be adding to my SWAP garments...I had to go back and look at the rules, but as my vague memory had nudged me, we are allowed: "2 garments may be purchased or previously sewn" So my black hemp-linen top will be included, probably taking the place of the floral voile blouse.

It has this stencilled and appliqued panel on the back: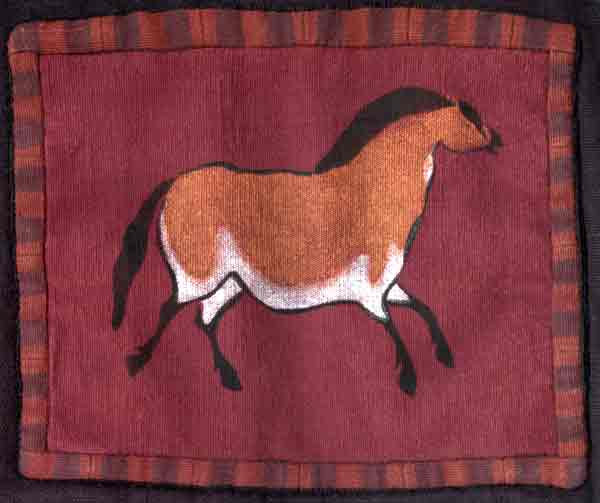 and these wonderful handmade Spanish pottery buttons, which I think will qualify as: "buttons as the star feature"...

The buttons on the cuffs also have cave art images. I like this top very much, but it has been kind of an orphan garment. With the several black and dark grey dresses in my SWAP, it will have "new friends" and I will have things to wear it with.

If anyone wants information on the relatively simple process of making a three color stencil, I've a tutorial on my website here...